We had some mishap and made some dent on our Highlander.
Got Replacement Headlights
, Unpainted Bumper Cover
, (which I still need to paint), and then fixed the fender with muscle, hammer, and some elbow grease… Since it was a little "kiss" with the garage door frame, there were not frame damage.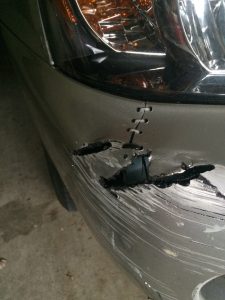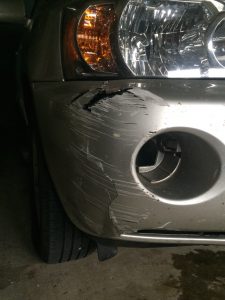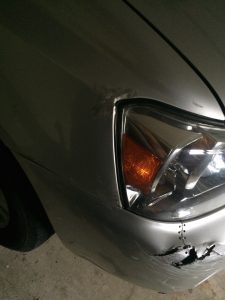 However, after a few days, I noticed small leak of coolant, and within a week or so, the leak got much work worse to the point I decided to bite a bullet and replace the radiator.
Thanks to AutoZone, I found a step by step instruction of how to remove and install radiator. I found Replacement Radiator
on Amazon for less than $100, and some coolant.
As always, I forgot to take pictures, as I start taking it apart, so those are pictures I took as I put them back together… Here's the step by step instruction with slight modification to the one from AutoZone…
Remove under tray

there are several 10mm bolts and plastic clips holding the under tray
While you are at it, remove all clips and bolts that holds bumper as well

Drain Coolant.

Coolant drain valve is on right side of the car
Place drain pan under the car, and then attach hose to the drain valve

While waiting for draining, remove the bumper cover
Remove Air Intake scoop by loosening retainer band, and two bolts
Disconnect radiator inlet hose (on top right), and outlet hose (bottom left, under the car)

use pick or flathead to lift the edge a little, and then spray WD40 will make the hose come of rather easily

Remove Hool Lock Assembly

Remove plastic cover by detach claw on bottom
Remove 3 bolts
Disconnect electrical connector

Remove the Radiator Upper Support Sub Assembly

Remove 5 bolts (2 on top, 2 in front and 1 in center behind hood lock assembly
Disconnect Horn Connector
Detach from the the suction tube bracket

Remove Upper Radiator Support
Remove Fan Shroud

Disconnect Coolant reservoir house from radiator
Disconnect electrical connector from the fan ECU
Detach wiring from the shroud
Detach hose from the clip at the bottom of the fan shroud
Remove 4 bolts (2 on top, 2 at bottom) and remove the fan shroud

Remove Radiator
Now All I need is to put it back together… (in reverse order)

Here are some tips of putting back together

The first and hardest part is to place two bolts holding the radiator at the bottom; Very gently and carefully, lift AC condenser to make a room to place the bolt in place; Using ratcheting wrench (with swing head helps!) to let thread to catch and then use open wrench to tighten the bolt

The replacement radiator has a slight difference from the original radiator


Notice the reservoir hose outlet is facing outward on factory original compare to inward on replacement

I could (probably should) have cut the hose to let it fit better, but decided to keep the original length

Once everything is put back together, refill the radiator/reservoir with coolant and water 50-50, and run the engine to warm up, bleed the air by opening the bleed valve by inlet hose using Hex Wrench
I'm pretty sure there should be a easier/proper way of placing the bottom screws for the radiator, but other than the soar forearm muscle, everything went pretty well. Took me whole morning on two mornings of Saturday and Sunday. Certainly it can be done in half day for the next time (which I don't plan on doing!!)
Now all I have left is to get the bumper painted, and then replace my zip-tie-stitched front bumper…
So far, total cost of this project is slightly less than $300, and I'm looking at paint cost to be another $100… still ahead compare to the insurance deductible…