Back in January, SWMBO had an accident, and her "Just been repaired" 2006 Highlander got totaled… No body was hurt, and only thing got lost was her Highlander, (and the poor guy taken to the police for driving without license when he got hit…)
As many of you know, I was in search of her replacement car. Tried Toyota Highlander, Volovo XC60, BMWX3, etc… after all things considered, price, room, all the features, etc, we ended up coming back to the Highlander.
Initially we wanted the Hybrid again, but with the wait time until it becomes available, and the price differences, we ended up with 2015 Highlander V6.
Considering how long we are planning to keep the car, how much drive we do, we went with the Limited trim with Platinum package… which means it comes with EVERYTHING! From backup camera to lane departure, and pre-collision system, steering wheel heater and seat cooler!! The color we found on the parking lot was Alumina Jade Metallic, which is green… I was bit hesitant when I see the name of the color as green, but when I see the color in person, it was not that bad. More I see more I like it.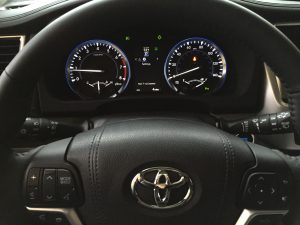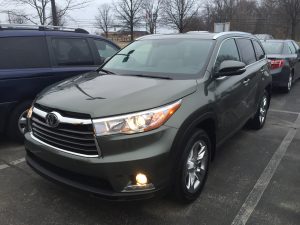 The car had only 4 miles!!, which means hasn't even used for test drive.
So far, I added the rear bumper guard and ordered all-weather floor mat / cargo mat.
I washed the car lightly and that took me almost an hour, and then waxing the car took me pretty much half a day, and didn't quite finish when it was dark… It's a huge car…
Anyhow, we are still exploring all the features, and still in break in period. I'll probably review more in detail soon.