About half a year ago, I picked up a beat up cheap welder and a helmet off craigslist, hoping to play with it and self-learn how to do welding, or at least flux core welding.
I figured, that once I have the welder and play with it, it would be simple enough like just buzzing a metal to get them stick to each other or something… well… It was not, and that's explain why there are welding classes, and courses, etc. Later, I sold my first welder and helmet, and decided to take a lesson from someone who knows how to do welding.
Through my friend, I met Grand-Master Welder B-sensei (teacher B in japanese), and he said he can teach me how to weld, and in exchange I can teach him some Japanese. Deal!!!
First, at his place, he showed me basics of how to do Flux-Cored welding. Just on a piece of metal (a brake rotor), I made a straight weld. Then move to welding two pieces together. B-sensei tack weld them, and I did corner welding. His teaching is very simple and to the point. Using white board, demonstrate the right way, tell me what I'm doing wrong, etc. It is so much FUN!!! after a few burning spots on my arm, I figured I gotta have something like he has. Not the cheapest welder on the market, but a good entry model welder…
With his advice, a visit to a welding supply shop, hours and hours of researching on Welding forums, product review, videos, I finally came home with this.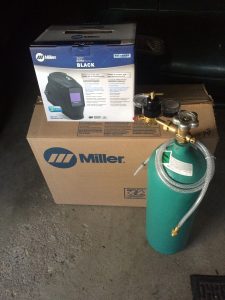 I was torn between Miller and Lincoln. I was 99% decided on Lincoln 210 MP, which can do both Mig and Tig option (just DC). A local welding supply shop had a refurbish unit for a good price, but when I call back (there were 10 of them on Saturday when they closed, and I called them 10 minutes after they opened on Monday), all 10 were gone… I could either wait for the next refurbished unit, or go with Miller. Miller also had a great deal, which comes with spool gun for aluminum, plus $400 worth of rebate for their accessories. If I ever wanted to do Tig with the Lincoln, it would've cost extra for optional equipments, and with Miller's discount, the price comes to about the same between those two.
I called them back and pulled the trigger. "I'll take Miller".
Miller 211, which is Mig only but with dual voltage, and with their promotion, they will send me a spool gun.
Also to use the $400 rebate with accessories, I went with Miller Digital Elite helmet, and also some flux-cored and solid wires, etc.
I already got them out of the box, but not fully assembled yet.
Will do tonight, and let's see how it weld!
I've been feeling like a kid on the Christmas day morning!!