The other day, I was at MicroCenter, and found this at the bin by the checkout line. Water Sensor and Alarm Kit
. I totally fell in their sales tactics.
My parents have basement and they already had a couple times flooded. Once when their sump pump failed, and second time when their drain pipe from the pump disconnected. When I saw this water sensor and alarm kit, I was like "this would be my geeky weekend project!" Took me an hour or so to get it all assembled. It needed a sawing of the circuit board (to detach the sensor section), and then some soldering. It's been a while since last time I solder, but it came back to me pretty quickly.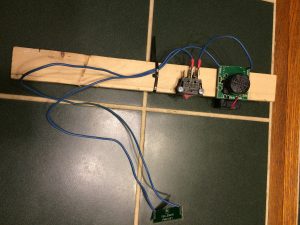 I screwed everything on to a piece of wood stick, and the sensor is extended about a foot. After a test, I decided to add a switch so that there's way to turn off, since once the sensor get wet, it takes a little while before it dries up.
Well… let's see if it could keep the basement from flooding next time 🙂