Cincinnati Region SCCA hosted TireRack ProSolo at Wilmington AirPark.
There were over 260 entrant, and luckily I could sneak into the competition 🙂
I was not even close to be competing with those top drivers, and I officially ended up as DFL.
I was so excited to run in my Watermelon Miata with all the official contingency stickers as well as meatball car numbers, but unfortunately, one of the exhaust studs snapped off after the first heat, and could not drive her for the whole weekend. However, Huge THANKS, to M., he kindly let me finish the weekend in his very well prepped 99 Miata. His car was blast to drive, and has amazing handling…
Special Thanks to Jeff Loewe for great photos as always!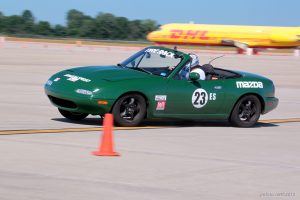 Anyhow, Here's my best runs from each side.
I was still almost 1 send away from the position above, and good 3 second away from the class leader of E-Street.
You can see the rest of runs on this play list (though, there are not much to see other than some spin outs…) The competition is so tough, and so much pressure. I found myself being way too nervous, and totally screw up on those runs… It was such a good experience, and hopefully I'll get better in the future…